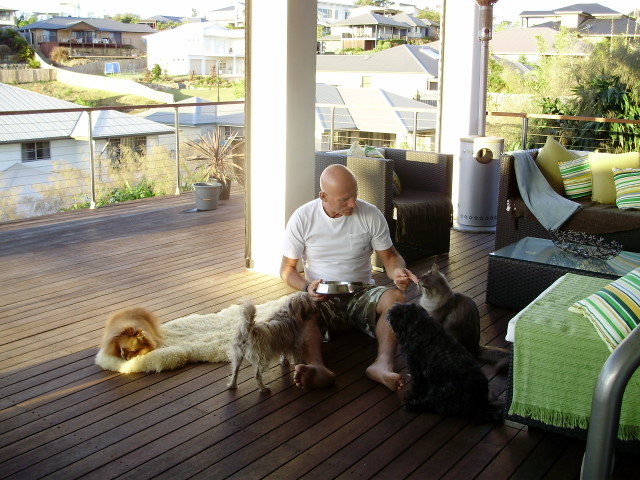 Tony and his pets
Tony specialises in environmentally friendly Pest Control Gold Coast.
Here is Tony with his pets at home on his timber deck.
Tony is going to treat your pets with the same care he treats his own.
Planning for your pest treatments
Precautions for pets -:
Pets should be kept away from treated surfaces until those surfaces dry. Drying time for sprayed surfaces is approximately 1-2 hours. It is recommended dogs and cats play outside during internal treatment and be allowed to come back inside after the treatment has dried.
Remove food bowls and water bowls from areas to be treated. Tony's team checks all pet food bowls prior to treatment.
It is recommended to cover any fish tanks and turn off the pump during your Pest Control.
Our Pest Control applications are designed not to linger in the air - the droplet sizes means there is little chance of breathing in chemicals.
However check for droplets after your treatment as these can take time to dry.
At Tony's Termites we apply treatments according to the manufacturers strict instructions.