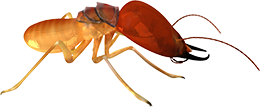 Termite Barriers
Full in-ground chemical termite barriers from
$2500
Why pay more?
5 Year Warranty
Book Now
Termite Barriers Gold Coast
Interest Free Terms are available, for up to 12 months on termite barriers.
Clients can install their termite barrier and protect their home from now and pay it off Interest Free.

Termite barriers are divided into Physical and Chemical barriers.
Chemical Barriers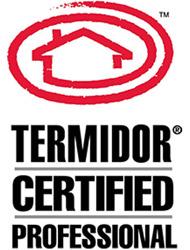 Termidor®
Termidor® is an undetectable liquid that termites cannot
No ongoing costs
Termidor Treatments can last about 8 years, it is safe for your pets and family. The active constituent is Fipronil, which is an ingredient used in Frontline. Fipronil has been used on pets for over 15 years. Termidor is environmentally friendly and will not cause any damage to the microorganisms in your soil, or your plants.
Termidor's transfer effect has the ability to destroy termite nests.
---
"Termidor starts working immediately and has provided 100% control of infesting termites in three months or less after treatment"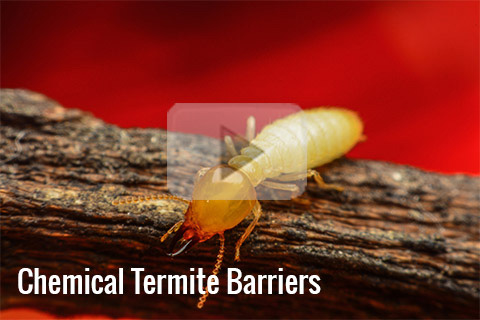 Creating a full termite barrier to your building perimeter as per the Australian Standard (AS3660.2) updated 2017 is designed to prevent termites gaining access to the food they crave. Specific chemicals registered by The National Registration Authority for Agricultural and Veterinary Chemicals are required to meet the standard. Every chemical has a life expectancy. Termidor has a proven protection or up to 8 years. This depends on soil conditions. Tony is a Gold Coast based accredited Termidor Applicator.
Transfer Effect
Termidor has very low water solubility. It will stay where it is applied. Once ingested the termite will not die for 24 hours. Hence the nature of termites (contact, grooming and exchange of food) has a transfer effect.
Termite Entry Points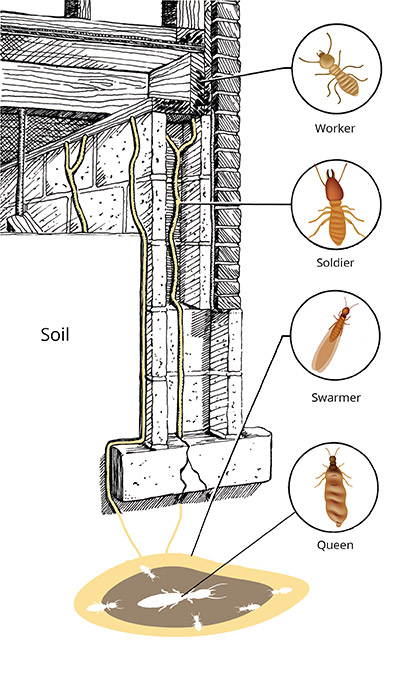 Termite entry points including the structure of a termite nest.
Physical Barriers

Greenzone®
Termite and Insect Repellent Barrier. 100% Australian Owned and Tested. 50 year two million dollar warranty*.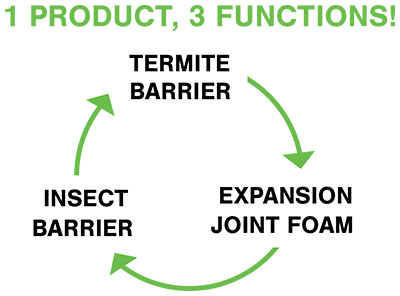 Home Guard
Homeguard kills and repels termites. Australian made and manufactured for the construction industry.
Benefits of a Termite Barrier
A correctly installed termite protection solution for your home or commercial property bring peace of mind. Here's how-:
Effectiveness - forming a barrier around your home yet transferable back to the termite nest. Termites cannot enter your building.
Safe for your household - Pest control standards need to be adhered to for them to be effective. Tony has over 20 years of protecting Gold Coast homes from termites.
Value for money - Termites can cause many thousands of dollars of damage if they're left untreated and wreak havoc in your home. They are difficult to detect. The location of the damage caused often requires experienced tradesmen to rectify. The cost of prevention is always better than a cure.
Termite Barrier FAQ
Control of pest termites involves identifying the species, locating the nest and choosing appropriate eradication methods. No single method is effective against each pest species, so a combination of doing annual building inspections in termite-prone areas, using naturally resistant or treated timbers in buildings, and installing chemical and physical soil barriers around buildings is necessary to prevent further problems.

Australian Museum - Termites as Pests
If you've got pests... we've got solutions".

Tony Casey
Pest Control Solutions Gold Coast
Termidor Accredited Termite Control
A more effective termite protection zone that can leave your home looking just as it did before.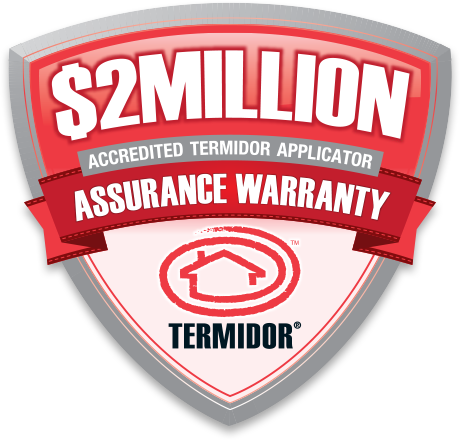 Most trusted and effective termite treatments
Effective protective zone termites cannot avoid
Highest level of protection year after year
Without damaging the aesthetics of your home
Without cutting corners or disturbing the structure
$2 mil Warranty
Termidor HE