Termite Inspections Gold Coast
Tony's Termite and Pest Inspections are carried out by our licensed and experienced pest controllers.
Who is inspecting your home? Are they licensed and qualified pest inspectors actively engaged in pest control?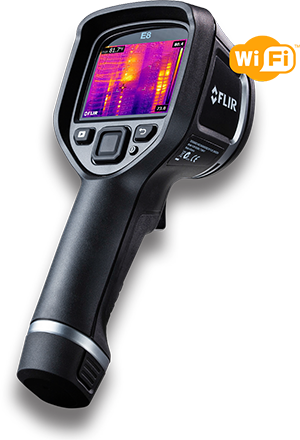 Thermal Imaging Camera
---
Our thermal imaging equipment use infrared technology for detecting moisture and temperature variances. Thermal imaging cameras are non-invasive tools that can be used for concealed areas. They simply track changes in temperature and indicate whether an area is warmer or contains moisture.
Pests, most especially termites, require moisture for survival.
Colonies of termites are usually damp, so when the thermal imaging camera scans a location that has higher moisture levels, it could be an indicator of termite activity, warranting further investigation.
This allows us to track potential signs of termites.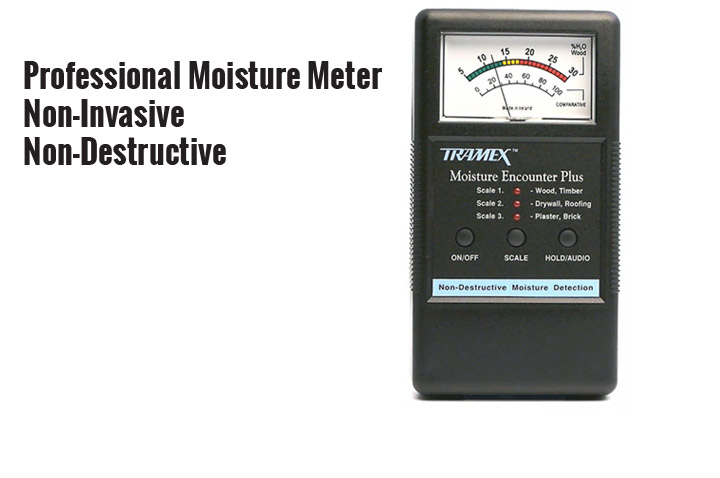 Moisture Meter
Non-Invasive
Non-Destructive
---
Our moisture meters provide a moisture reading of building materials so that our inspector can determine if there are conditions which might lead to termite activity.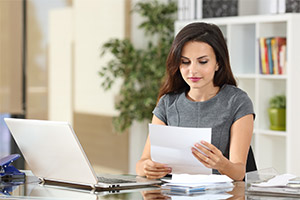 Fast Pest Inspection Reports Gold Coast
We can get our detailed Pest Inspection Reports to you very quickly.
A thorough pest inspection includes use of our Thermal Imaging Camera and Moisture Meter carried out by an expert specialist pest controller. However our detailed reports can be quickly sent direct to your inbox.
Detailed Report
Images of Trouble Areas
---
When you need a detailed Gold Coast Pest Inspection quickly call us.
Termite Inspection Standards
Download our broochure checklist of Termite Inspection Standards
Termite Inspection Standards
Termite Inspections
You may be aware that having an annual termite inspection on your property is not just a smart idea, it's a requirement for the validity of your termite warranty.
But did you also know that if you don't have a termite inspection carried out every 12 months there is every chance you could also be voiding your termite barrier warranty?

Tony Casey
I have been in the termite business for a very long time and have seen some real horror stories, it breaks my heart when I see the cost to some home owners.
There are so many ways termites can enter your home and start feeding it that you are probably not even aware of.
Damage from termites can often go undetected as they build their tunnels, eating their way through your home for months before you even notice.
The foundational harm termites do in the early stages isn't actually visible
It's not until the damage has really taken hold that you know you have a termite problem.
Think about what this means for you and your family.
Can you really afford the risk of not knowing whether the structure of your greatest asset is being impacted by termite activity you are not even aware of?
A termite infestation can compromise the integrity of a house to such a degree that it is unsafe to live in, often until very expensive repairs are made.
If you do believe you have termites or have seen signs of termite activity, do not use pesticide sprays as this will only serve to drive the termites deeper into the structure and foundation of the building in order to avoid detection.
Having yearly termite inspections carried out can save you thousands of dollars simply because catching out termite activity as early as possible is key to retaining the integrity of the structure of the building.
Once any part of that structure has been destroyed or damaged, it becomes a very expensive repair job and can be a very hard lesson.
The likelihood of termites invading the structure of your building - domestic or commercial - is very high and increasing.
There are several reasons for this:
A change in the type of chemicals allowable for treatment
Increased humidity in the atmosphere
Materials used for construction
Building design
You may think you are saving yourself unnecessary costs by putting off having your home or commercial premises inspected for termite activity, but let me tell you my friend, this is truly a false economy.
The fact is termites cause more damage to buildings in Australia than fire, floods and storms, they can pass through a 2mm crack or even an expansion joint.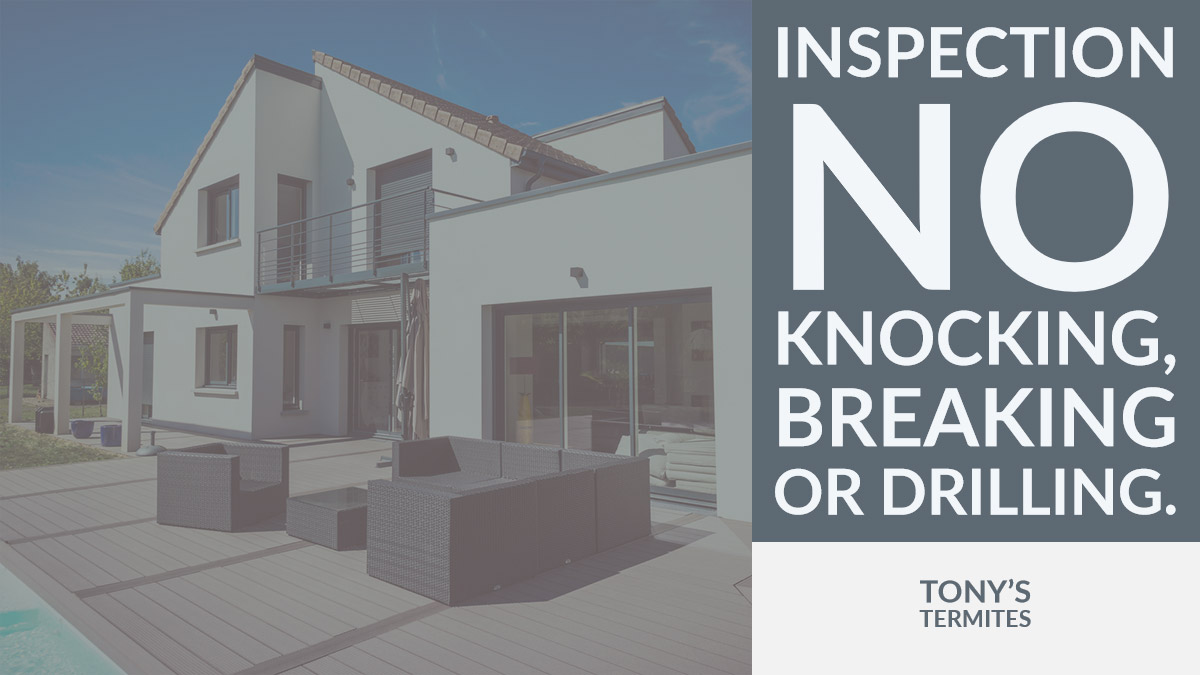 So what exactly does our termite inspection involve?
We check for any signs of termite activity
We check for any damage caused by termites
We check for areas of the building that make it easy for termites to eat their way in
As certified termite specialists Tony's Termites and Pest Control have over 15 years experience, are fully licensed and qualified to operate in NSW and QLD.
Licensed with Queensland Building and Construction Commission (QBCC) and NSW WC, we are authorised to use the Exterra baiting system, an honour we are very proud of.
Our professional and comprehensive termite inspections will uncover any trace of termite activity no matter how early on the invasion.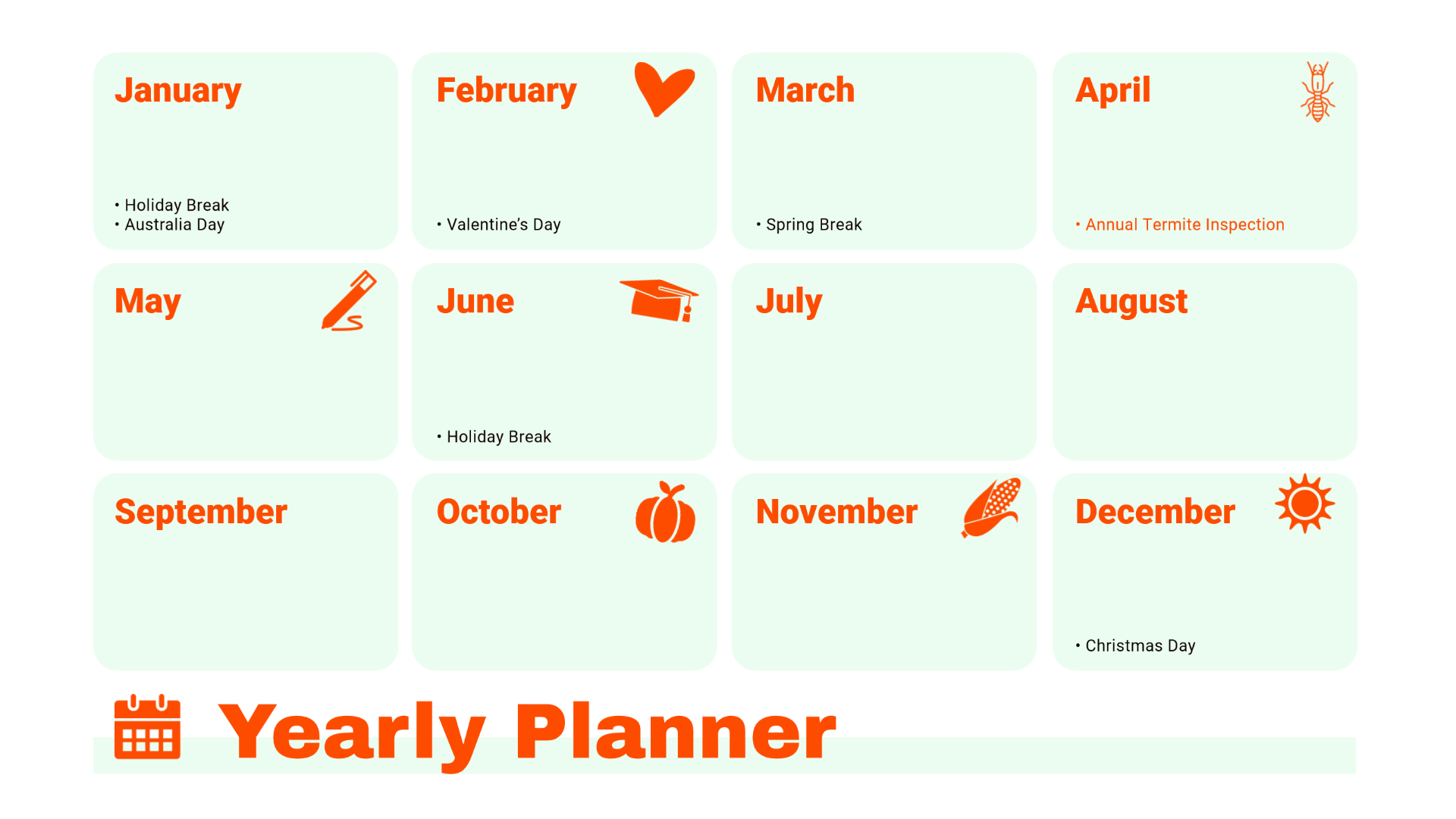 Our technicians are certified to complete reports in a format compliant with Australian Standards, so you can rest easy knowing all relevant checks have been carried out.
Protecting your home and place of business from intruders is just good sense but termites are not just intruders, after intruding they can quite literally bring the building down around you.
When it comes to termite inspections you want it done fast, done right and done by certified experts. We definitely check those boxes.
We carry out residential and commercial inspections right across South East Queensland and Northern NSW so give us a call today - for your own Peace of Mind.
Termite Inspection vs Pre-Purchase Pest Inspection
A pre-purchase building and pest inspection is for ensuring you know the property you are potentially purchasing. An annual Termite Inspection is to ensure you protect your home from invasive termites.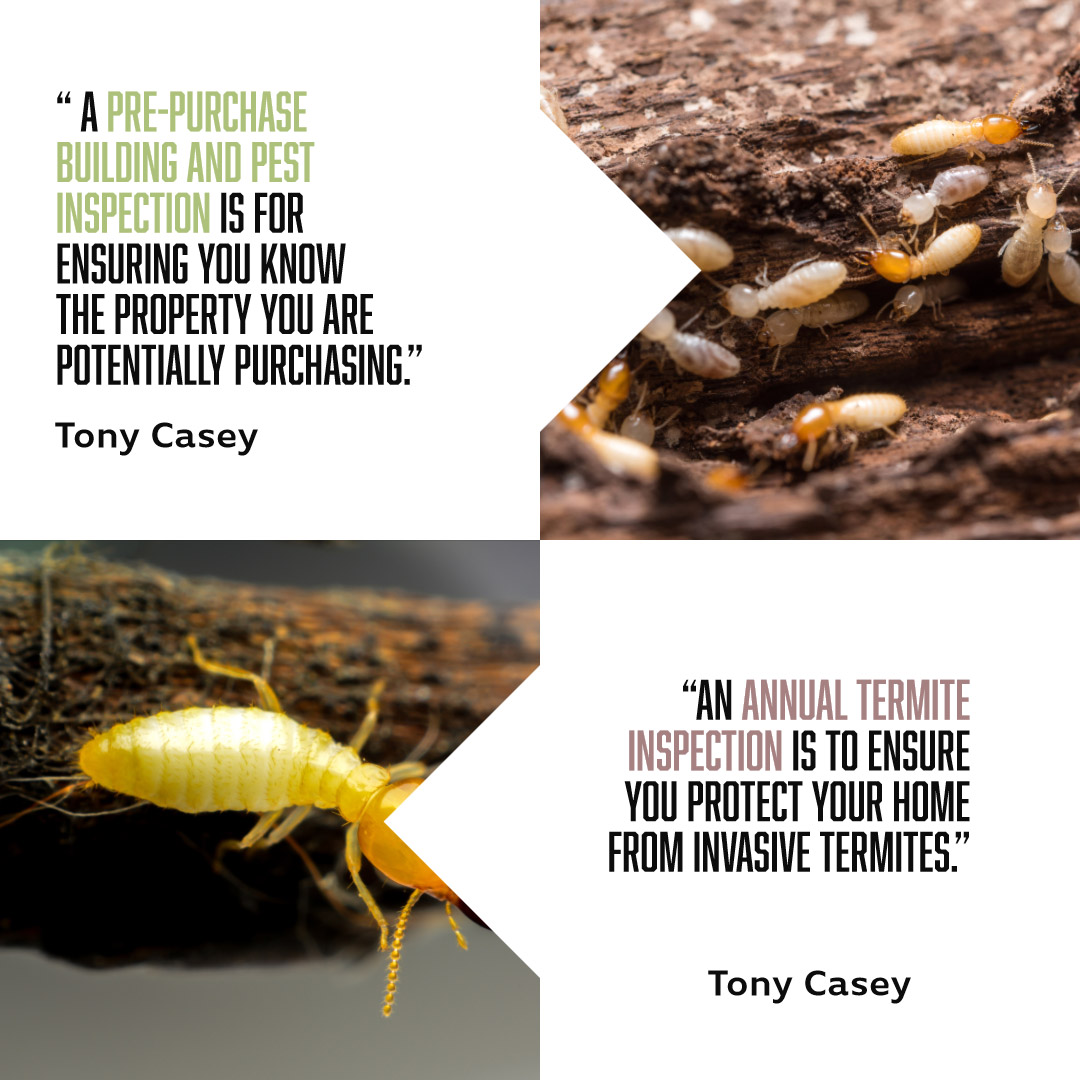 If you've got pests... we've got solutions".

Tony Casey