Termite Eradication Gold Coast
If you are in the unenviable position of having discovered you have a termite infestation, it may be tempting to try some do it yourself termite extermination products. However, this is not the most effective way to deal with these pests.
You will more than likely exacerbate the problem and in the long term rather than saving yourself money, it will cost you a lot more in money and time.
While termites are a natural part of the Australian environment, particularly in Queensland and northern NSW, you don't want them eating their way through your home or commercial property.
Unfortunately this can and does happen, and very quickly!
If you have any of these signs you could have a termite invasion and need to take immediate action:
Termite Nest With Damage
Termite noises (these are active termites signalling to the rest of the colony)
Termite mudding
Hollowed or paper thin timber
Sagging floors
Discarded termite wings
Termite nests
Termite tunnels
Mud mounds around joints or foundation walls
If you suspect or know there is termite activity the worst thing you can do is to wait before eradicating, destruction can be fast and can completely devalue one of your greatest assets before you know it.
Once you know you have termites it takes a specialised treatment system applied by certified technicians to eradicate both the active termites and their colonies properly for a long term solution.
Early detection and expert treatment
This is the only way to minimise the damage to your property, keeping the repair bill manageable and maintaining your property's value.
There is a misconception that only timber structures are prone to termite infestation. The reality is that even if your property has a steel frame, it can be susceptible to termite activity in supporting structures and walls.
Any timber elements in your home or commercial property are susceptible to a termite invasion, once the invasion has begun the only way forward is professional termite eradication as soon as the termite activity is discovered.
Using the latest technology developed, Termidor eradicates termites quickly once they have gained access. The advanced system used is powerful enough to continue working long after application has been carried out.
Termites are part of the outdoor environment we live in but that doesn't mean they have to be part of your indoor environment as well.
It's interesting to note here that not all termites have a central nest, instead many seem to live completely underground.
Even though an obvious tell tale sign of the presence of termites is the mud mound so often seen throughout Australia, you can actually still have termites without the mounds being present.
Our termite eradication service is something we pride ourselves on, we can exterminate the termites while causing minimal disruption to your home and lifestyle. Minimal disruption for you, maximum impact on termites.
Operating throughout the Gold Coast and northern NSW, we are committed to ridding termites from your property fast.
Authorised Exterra Agent
Tony is an authorised agent for Exterra "Total Elimination of Termites".
Termite Baiting Systems
Baiting systems are designed to interfere with the growing process of termites. The systems need to be monitored and replenished.
"The elite EXTERRA Termite Interception and Baiting System, with its unique Termite Interception Zone™ encircling your home is THE ONLY baiting system that creates a complete Termite Interception Zone around your home."

EXTERRA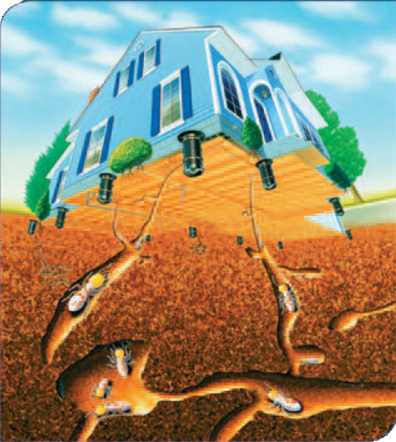 Exterra
Most palatable termite bait on the market
Unique Termite Interception Zone protects your home.
FOCUS Termite Attractant draws termites into the Station.
Larger Station intercepts termites better.
Preferred eucalypt timbers ensure termites enter Stations.
Quality Controlled System with bar-coded Stations.
Safe for you, your pets and the environment.
Eliminates the Termite Colony.
---
It's important that your baiting system can be inspected - the Exterra patented solution allows easy inspection without disturbing termites.
"SURE PROTECTION that is less Toxic than Salt"

EXTERRA
If you've got pests... we've got solutions".

Tony Casey