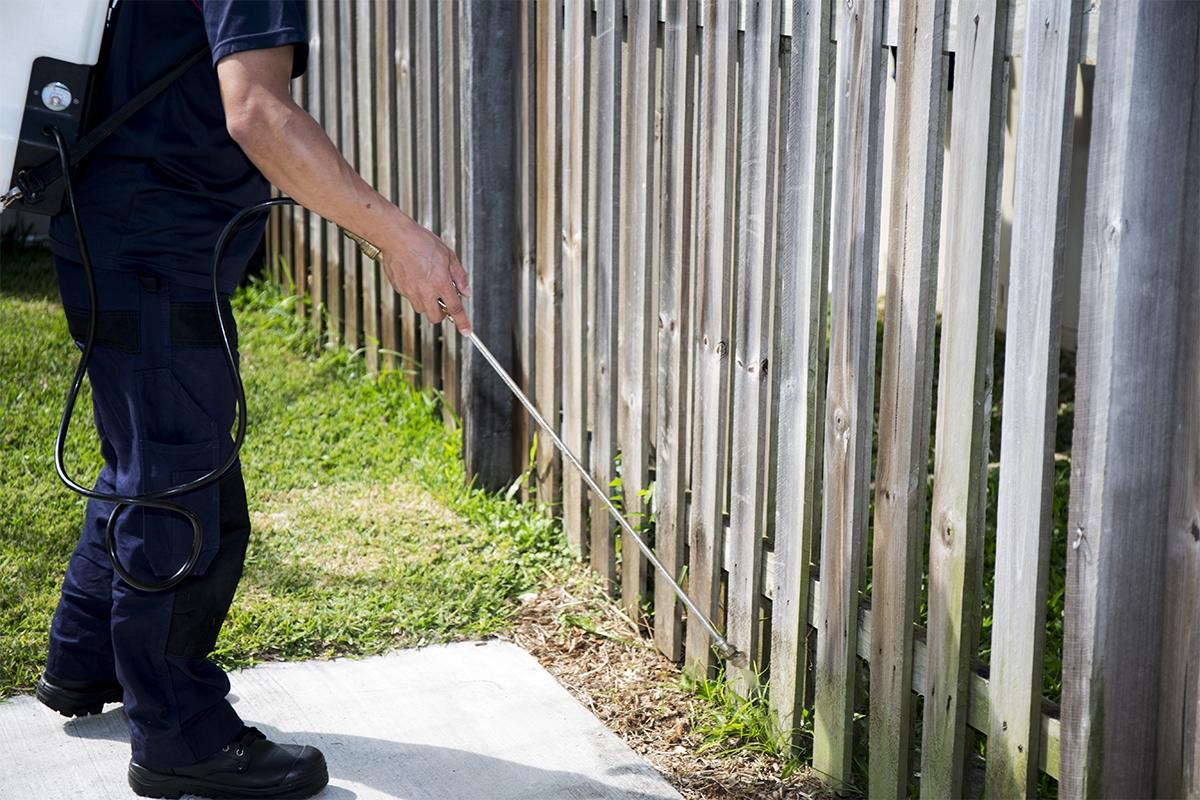 Pest Control Chemicals
A National Standard: Code of Practice for Termite Management (2016) has been developed and prepared by the Australian Environmental Pest Management Association (AEPMA).
As the professional pest management industry's peak national body, AEPMA is committed to developing, preparing and promoting definitive 'Codes of Practice' describing and providing expert guidance on best practice across an increasing range of key pest management areas.
This Code of Practice has been prepared, in large part, to help promote increased professionalism and innovation at all levels, across all industries and to recognise and embrace all stakeholders involved in incorporating termite management systems into new buildings during the course of their construction. (AEPMA. Code of Practice for Termite Management. 2016)
AEPMA maintains that professional pest managers who undertake or advise on termite management must have an in depth knowledge and understanding of termite biology and behaviour.
Such knowledge and understanding enables pest controllers to make properly informed judgements, decisions and recommendations and, therefore, carry out only the most appropriate treatments and management strategies. (AEPMA p.20)
A termiticide is a pesticide or pesticide treated article or substance used for controlling, preventing, destroying, repelling or inhibiting termites. By law, manufacturers must provide warranties that their products are 'fit for purpose' according to product specifications.
If products fall outside these specifications, manufacturers must, at least, provide a replacement product. Manufacturers are not, however, held responsible for how products are applied. (AEPMA p.39)
Manufacturers are not, however, held responsible for how products are applied.
Australian Environmental Pest Management Association
Pest Control Gold Coast
Tony's Termite and Pest Control - Gold Coast is owned by Tony Casey.
Tony uses only non-toxic chemicals and tactics in his defence and offence against the invasive and/or destructive behaviour of termites and other pests.
Tony's team ensures that the highest level of safety is maintained at all times as pest control work is often required to be carried out in child and pet-friendly environments.
Tony's Termites and Pest Control are certified termite specialists and fully licensed to operate in NSW and QLD.
Tony's professional and comprehensive termite inspections uncover any trace of termite activity no matter how early on the invasion.
And Tony's use of advanced technologies allows a termite inspection to be conducted without knocking, breaking or drilling your property.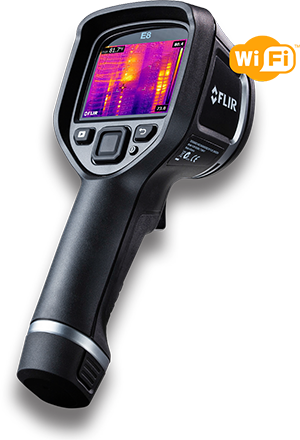 Thermal Imaging Camera
The Australian Pesticides and Veterinary Medicines Authority (APVMA) is the Australian Government regulator of agricultural and veterinary (agvet) chemical products, including insecticides and other pesticides.
For an agvet chemical product to be legally manufactured, imported, supplied, sold or used in Australia, it must be registered by the APVMA (unless exempt under the Agvet Code).
The minimum length of time over which termite management products should provide protection against concealed termite entry is called the "Period of protection" and is stipulated on every product label.
Some products have different periods of protection applicable to different geographical areas and regions to accommodate climate and environmental impacts on product longevity. (AEPMA p.39)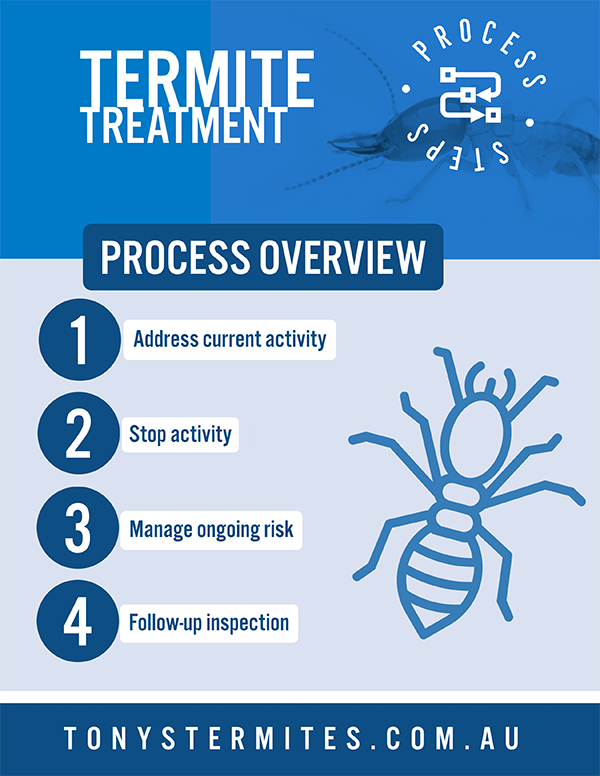 Tony's Termite Treatments
Tony's Termites is Licensed with the Queensland Building and Construction Commission (QBCC) and NSW EPA and therefore authorised to use the highly effective and safe Termidor He Termite Treatment, Green Zone ( Termite and Insect Barrier Systems in New Buildings) and Home Guard chemical barrier systems and the EXTERRA Termite Interception and Baiting System.
Tony's Termites and Pest Control carries out residential and commercial inspections across South East Queensland and Northern NSW.
Tony's technicians are certified to complete pest control reports in a format compliant with Australian Standards, ensuring all relevant checks have been carried out.
Minimising Termite Risk
Regular maintenance and inspections are both essential elements in the cost-effective minimisation of the risk of concealed entry into buildings by termites.
To protect their building from termites, building owners and managers should:
ensure their buildings are inspected at least annually by suitably qualified and licensed pest managers (more frequent inspections may be required in high risk areas);
take care not to compromise (by bridging or breaching) existing or recently installed termite managient systis;
fix water leaks in and around buildings, paying special attention to drainage points for air-conditioning and hot water systis, ensuring such drainages are piped well away from any built structures;
riove loose timber material, especially timber lying on the ground;
ensure there is adequate ventilation in available to all sub-floor areas and that ventilation vents are kept clear;
ensure gardens, paths, pavers etc, are kept well below the height of finished internal flooring; and
generally follow recommendations from professional pest managers.
(AEPMA p.48)
Future Innovations in Termite Management
In the future, major research and development by companies and organisations in Australia and overseas are likely to result in the evolution of a range of new termite management and other pest management products, technologies and application techniques.
For the health and safety of consumers, pest managers and the environment, all such products will be required to be thoroughly trialled and tested. Assuming they pass such tests, products will be submitted for registration by the APVMA and/or satisfy requirements of Australian Standards 3660.3-2014 Termite Management - Assessment criteria for termite management systems. (AEPMA p.45)
Main Reference: https://aepma.com.au/Resources/FMFiles/Codes_of_Practice/A_National_Standard-Code_of_Practice_for_Termite_Management_DRAFT.pdf