Pest Control Southport
Another Gold Coast summer approaches and along with subtropical heat, humidity and rainfall, a multitude of species of animals and insects become far more active.
Not all this activity is welcomed by the species known as Humans, especially when the critters we regard as pests succeed in entering our homes in search of food and shelter.
The range of pests that invade homes and buildings on the Gold Coast include:
Ants
Bees and Wasps
Cockroaches
Fleas
Mosquitoes
Rodents
Spiders
Silverfish
Termites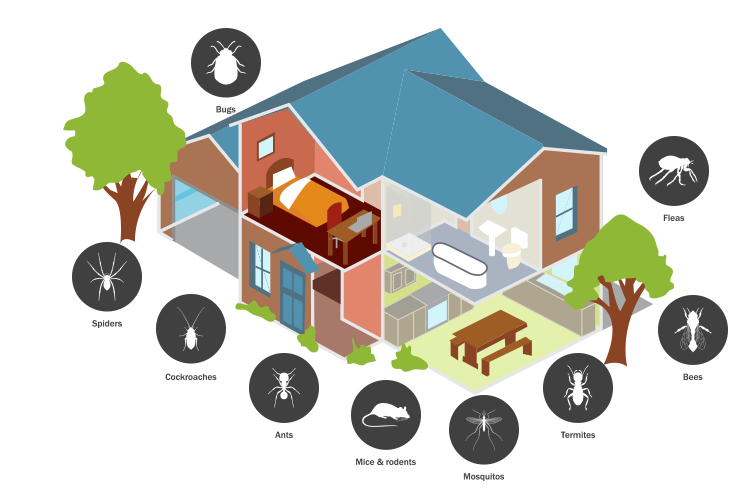 Some of these pests present temporary or potentially even permanent inconveniences that require pest control solutions.
In Queensland and Northern NSW the likelihood of termites invading the structure of your building - domestic or commercial - is very high and increasing.
"The majority of mosquito problems on the Gold Coast are caused by salt-marsh mosquitoes. Further mosquito breeding occurs in freshwater after periods of high rainfall. When high tides exceed about 1.6 metres at the Gold Coast Seaway, tidal marshes are flooded, triggering mosquito breeding. This occurs almost on a monthly basis. High rainfall events can also cause flooding of salt-marshes. Mosquito control is important as some species carry debilitating diseases such as Ross River Virus."

https://www.goldcoast.qld.gov.au/environment/mosquitoes-4095.html
Native birds and possums are not necessarily regarded as pests; however, they also occasionally cause havoc or disturbances in offices, shops, cafes, restaurants, tourist accommodation, and our homes.
Southport has a population of approximately 35,000 people residing in more than 8000 homes. Southport is also one of the major business hubs of the Gold Coast with 18 high-rise towers and over 100,000 m2 of office space.
Southport's humid subtropical climate with wet summers and warm winters provide ideal conditions for subterranean termites. And given Southport's proximity to major creeks and rivers; numerous parklands and Botanic gardens; Griffith University campus and the Gold Coast Hospital; housing canals and the Broadwater estuary, this suburb is also susceptible to hosting mosquitoes, cockroaches, ants, spiders, silverfish, bed bugs, rats and mice.

The occasional problem with birds and possums in Southport can also require pest control, especially during our subtropical winters and spring. It is only when the natural habitat of possums, tree cavities, are disturbed that they move into your roof, often through a broken tile.
In Australia, possums are protected under legislation and require conservation. When they make their home in the roof space they need to be safely removed by humanely trapping them, sealing up the openings and relocation of the 'culprit' by a qualified person. Tony's Termites and Pest Control can help with the removal of possums and birds through harmless and safe methods.
Tony's Termite and Pest Control is owned by Tony Casey who has over 15 years of experience across the complete range of pest control services.
Tony's technicians carry out residential and commercial inspections across South East Queensland and Northern NSW. They are certified termite specialists with over 15 years experience and fully licensed to operate in NSW and QLD.